finally we can offer you the KUNOMAIL barrier-free update 1.5.5 .
The display problems with an enlarged Windows resolution have been resolved and all surfaces have been updated by us in the last Weeks carefully revised. You will be amazed by the new update! In the following video, our Franci explains how to customize the new options for the KUNOMAIL presentation.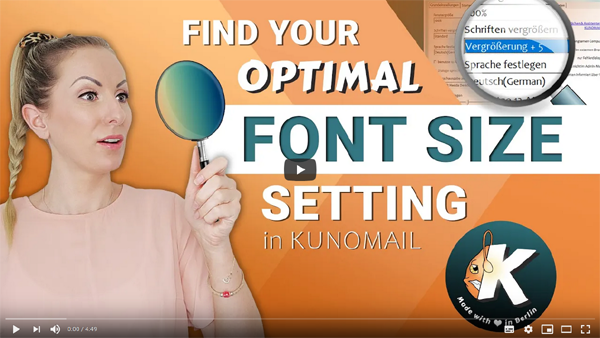 continue to the video on YouTube
The entire team has invested a lot of time and effort in the last few weeks to complete this update with the following features:
KUNOMAIL Supports an enlarged font display

Some of you enlarge the Windows display by more than 125%, which leads to considerable display problems if the screens or screen resolutions are too small. Menus are either shown in abbreviated form or are not visible. The display of small and large menus is also not ideal. We will revise all KUNOMAIL surfaces for a larger representation. In the settings, the enlargement of the display can be increased significantly if required. The selected magnification is applied uniformly to all menus.

With this extension, every KUNOMAIL user receives regardless of the selected magnification, an optimal display for his KUNOMAIL!




Images in emails can be automatically scaled down

Many of you like to send large pictures. However, some of these images may be too large to email. KUNOMAIL will fit in the future depending on the setting made, the images in your emails automatically. Problems with "too large emails" are a thing of the past.

The e-mail account management provides detailed information about possible problems with the connection to the e-mail account

In the future, the e-mail account management will inform you in detail about possible problems connecting to your e-mail account. Not being able to send or receive emails, This is usually due to incorrect settings in the e-mail account or an incorrect password. A corresponding dialog then informs you with an understandable error message.

Deleting emails in the grouped view

Here we have fixed minor bugs that affected the deletion of the emails. Deleting emails across multiple email accounts at the same time is no longer a problem.
This week we have again published new YouTube videos for you on our KUNOMAIL YouTube channel.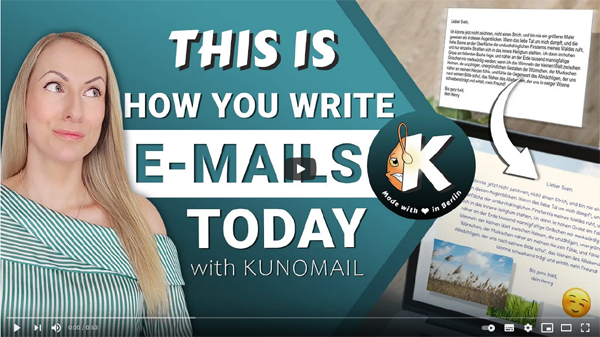 continue to the video on YouTube
Follow us there and find out immediately when there is news from KUNOMAIL.